Ogni giorno un piccolo passo, ogni giorno una nuova idea. Quindi al lavoro!!!! Sto creando ancora e piano piano sulla tela arrivano i punti uno dopo l'altro. Cosa sarà? :D Mi fa compagnia sempre la fidata forbice con il suo bel magnete portaaghi, sempre creato per La CiCoBottega....
Everyday a little step, everyday a new idea. So back to work!!! I'm creating new things and slowly on my fabric are coming several stitches, one by one.... What project will be? :D I've always with me my scissors accessorized with La CiCoBottega magnet for needles.....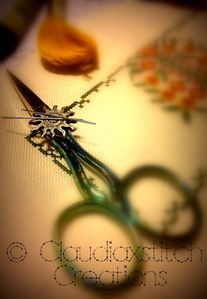 Comunqu, oggi vi vorrei presentare una nuova pera portafarfalline disegnata per La CiCoBottega: si tratta di un disegno dedicato a Perla, un dolce gatto grigio che adora stare sulle mie ginocchia quando vado a trovare Paola. Quindi perchè non dedicargli uno dei nostri schemi??
Anyway, today I would love to introduce you a new bobbinkeeper for La CiCoBottega: it's a cute cat called Perla the subject of this pear. A lovely gray friendly cat that loves to lay on my legs everytime I go visit my friend Paola. So why don't dedicate to it one of our new line patterns?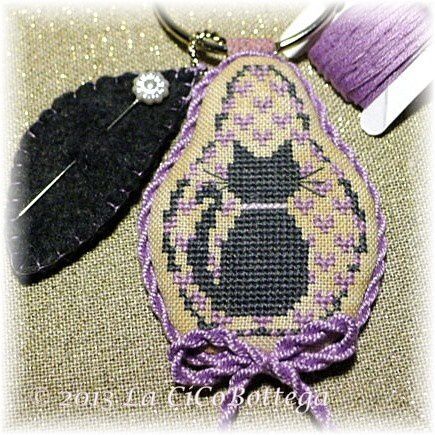 Grigio e lavanda, due colori molto carini da abbinare.
Gray and Lavender, two nice colors to match.