Mi dicono spesso che attorno al collo indosso cose speciali, uniche e carine... Beh, non so se è la verità. So però che a me piacciono molto le cose speciali, fatte a mano e soprattutto con il cuore.
Ecco perchè, ad esempio, mi piacciono i Momo Bijoux (l'Alice di Monia è la mia favorita e fa diventare matte le mie amiche... :D) e perchè mi piace molto creare qualcosa da sola, con il prezioso aiuto e gusto della mia amica Paola.
Con Paola abbiamo creato qualcosa di speciale, abbiamo il nostro piccolo angolo, il nostro spazio da sogno dove condividere la nostra fantasia con alcune persone che ci seguono: questo posto è La CiCoBottega.
razie a questo progetto, posso indossare i miei gioielli, proprio come questo:
People always say that aroud my neck I have often special things, unique and lovely. Well, I don't know if it's true; what I know is that I love special things, handmade and possibly made with the heart.
That's why I love for example Momo's bijoux (her Alice's necklace is one of my favourite and it makes go crazy all my friends... :D) and that's why I love do something by myself, with the precious help and taste of my friend Paola.
With Paola I've started something special, we have our little corner, our little dreamland where to share our world of fantasy with few followers: this place is La CiCoBottega.
Thanks to this project, I can wear my own jewels like this one: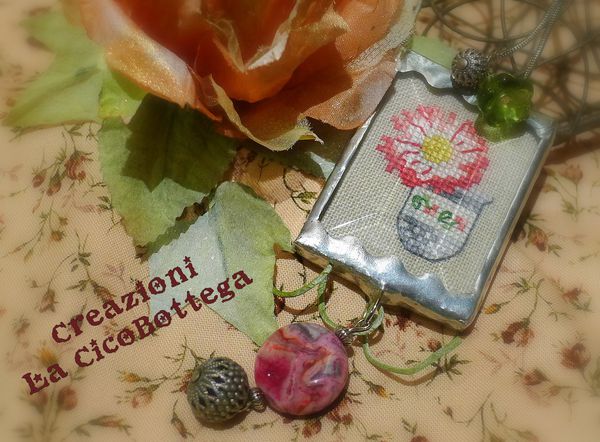 Da uno schema francese, una graziosa margheritina appoggiata in un ditale, eseguita su lino 40 count ed intrappolatoa tra due vetri. Impreziosita da una berla di agata crazy lace, un paio di antiche filigrane e un fiore in vetro a cono, questo pendente è rimasto al mio collo per due giorni: un modo di cercare l'arrivo della primavera in questi giorni piovosi!
From a french pattern, a lovely daisy inside the stitcher's best friend, a thimble, stitched on a 40 count linen and trapped between two glasses. Accented with crazy lace agate bead, a pair of antique pewter beads and a lovely green glass flower cone, this pendant was around my neck the last two days: a way to look forward for springtime even if it's raining!!