Novità ma dal passato! Il primo kit è da un passato recente: chi non conosce la superba Jane Greenoff? Abile designer, molto elegante nelle sue realizzazioni, ha prodotto questa meraviglia che non potevo farmi mancare. Si tratta di uno scissor stand, magnifico, con una combinazione perticolare di tasche che lo fanno diventare utile accessorio da ricamo!
News but from the past!! The first kit is from a close past: who doesn't know the legendary Jane Greenoff? She's a skilles designer, very elegant in everything she creates, and she made this wonder that I couldn't miss at all. It's a scissor stand, wonderful, with a lovely combination of pockets that enables it as a useful stitcher's necessaire!!!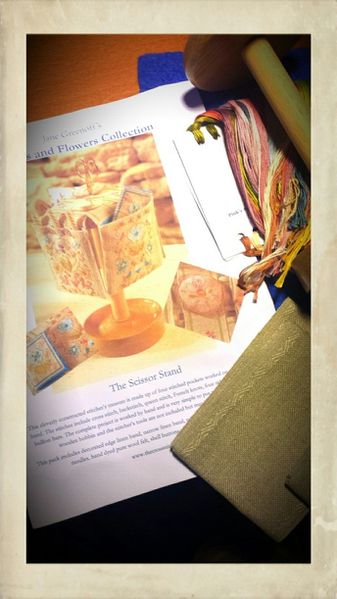 Il kit è completo: bottoncini, fili, lini, stand... e un dettagliatissimo schema. Devo iniziarlo il prima possibile!!! :D
The kit is a full kit: buttons, threads, linen, stand... a very detailed chart. Needs to be started as soon as possible!!!! :D

Il secondo kit è delizioso: è una bambola del 2008 della Olde Colonial Design che ha il grembiulino da ricamare. Molto molto rara, sono riuscita a trovarla grazie ad una amica americana, Martha. La bambola è Miss Penny, una replica in legno di una bambola del diciannovesimo secolo, venduta per un solo penny. Non è adorabile????
The second kit is a cutie: is a 2008 Olde Colonial Design doll that has a lovely apron to stitch!! Very very rare, I found it thatnks to a lovely friend in USA, Martha. The doll is Miss Penny, a wooden replica of a jointed wooden doll dressed used by children in 19th century, sold for a penny. Isn't she adorable????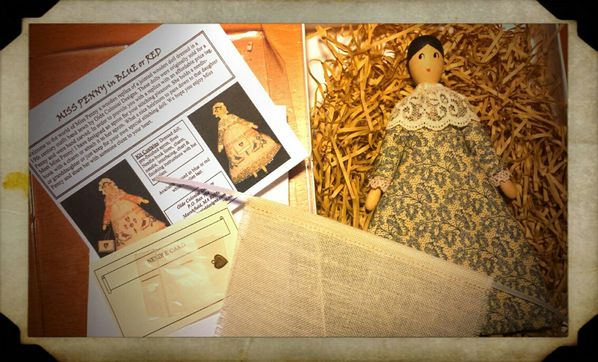 Anche lei dovrebbe essere completata.... come posso fare? Avrei bisogno di tre vite!! :D
She needs too to be finished, of course..... How can I do? I would need three lives... :D