Legno.... un cuore di legno. Questo fine settimana partirò per Bormio, per accompagnare chi del Basketball fa virtù, e il luogo più incantevole della cittadina è un albergo incredibile: La Genzianella - Alpine Chic Hotel. Gli ospiti vengono coccolati in una atmosfera magica, indescrivibile, così accogliente da non voler più partire!!!
Questa volta siamo noi che portiamo loro una coccola... per il muro dei cuori:
Wood.... a wooden heart. This weekend we'll leave to reach Bormio, to follow a basketball virtuous son, and the most wonderful place to stay in this city is an unbelievably cozy hotel: La Genzianella - Alpine Chic Hotel. Guests are pampered, here, in a magical and lovely atmosphere... so cozy that you won't to quit!!
This time it's our turn to cuddle them so we are taking a little present for the Hotel "Heart Wall":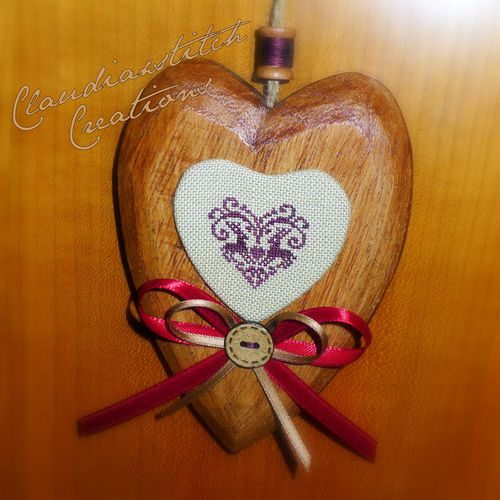 Lo schemino è tratto da un vecchio Parolin, ricamato uno su uno con seta della mitica Clayton su Lino Graziano; il tutto montato su cuore in legno scovato al Viridea, trattato con mordente, e impreziosito da alcuni piccoli dettagli... Piacerà??? :):):)
The pattern is from the Italian designer Parolin, stitched over one with Vicky Clayton silk on Graziano Linen; I've glued the piece on a wooden heart found in a store close to my town and embellished it with some accents....Do you thik they'll love it??? :):):)