Few people follow me.... but I'm happy! :D

Eh sì.... le visite al blog sono drammaticamente basse.... Troppo tempo senza scrivere ha proprio allontanato tutti! Non c'è niente da dire: Facebook è sicuramente meglio!! Ma sono comunque felice, perchè continuo a sfornare ornamenti di Natale come mai mi capitava da tempo :D
Ho confezionato il carinissimo Blessed ed ecco il risultato:
Oh yes.... blogs visits are sadly few... Too much time without posting has rejected everybody!! Nothing to say about that Facebook is better than a blog for sure!! But I'm happy, 'cause a continue to make Xmas ornies as never before :D
Blessed is finished and that's how: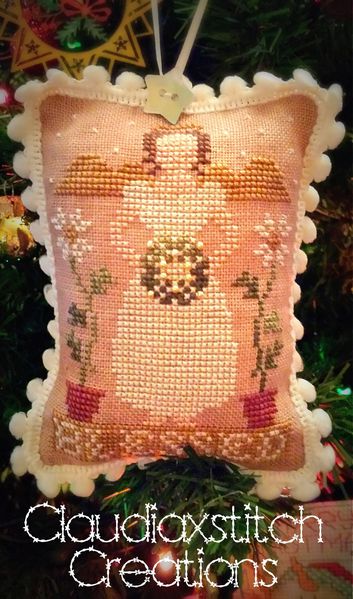 Non facile trovare come rifinire questo angioletto! Per fortuna avevo di recente preso da Silvia de "Il Telaio Povolaro" una serie di passamanerie splendide tra le quali questa con pompoms color avorio! Un bottoncino di madreperla a stella, ed ecco che l'ornamento è finito!!
It's not easy to find a way to finish this lovely angel! But luckily I bought weeks ago some very beautiful trims and this with ivory pompoms it's perfect. With a mother of pearl star button, the ensemble is perfect!!