Because I am never satisfied!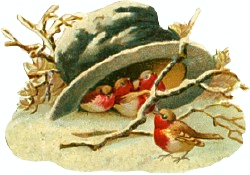 Si, non sono mai soddisfatta e sono una gran criticona, chi mi conosce lo sa. E' per questo che proprio non mi è piaciuto come
Diane
di LHN ha rifinito il suo Falala, primo degli ornamenti di Natale che usciranno nel 2010, così l'ho confezionato come piace a me, aggiungendo qualcosa in più:
Yes, I am never satisfied and I criticize a lot, who knows me, knows it :D. That's why I didn't like how
Diane
of LHN finished her Falala ornament, first in a row of ornaments that will be released in 2010; so I've decided to finish it as I like, adding some accents...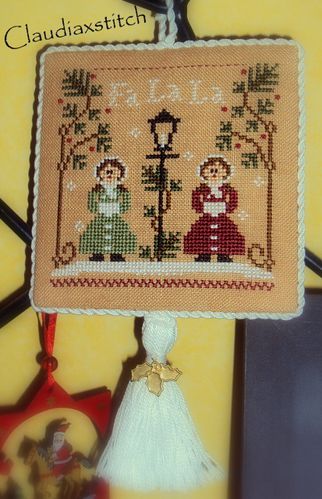 L'ho realizzato su lino tinto WDW con filati DMC e perline Mill Hill, usando il minikit di Drema di Needlecraft Corner, aggiungendo un cordoncino in perlè bianco e nappa con un piccolo agrifoglio in ottone. Così mi piace!!! :D
I've stitched it on a WDW hand dyed linen with DMC threads and Mill Hill beads, using the chartpack that Drema of Needlecraft Corner sent me, adding a white perlè cord with a tassel accented by a holly charm. That's the way I like it!!! :D

Una piccola ma importante nota: qualche giorno fa il forum di Legacy si è accorto di un blog russo sul quale compariva già realizzato l'ornamento di LHN "He's a flake". La cosa grave è che lo schema di questo ornamento non era ancora in distribuzione nei negozi!!!!
Diane
, la disegnatrice, informata della cosa, si è molto rattristata per l'accaduto e ha postato che mai più pubblicherà foto grandi dei suoi nuovi disegni, per evitare scopiazzature illegali addirittura anticipate. Che dire... La cosa è molto molto triste.... Nel commento in inglese trovate le parole dirette di Diane.
A little but important note: few days ago the Legacy forum discovered a russian blog with the newest "He's a flake" ornament from LHN already stitched and finished. What's wrong? Well, the pattenr was not yet released!!!!!
Diane
, LHN designer and copyright owner, has been informed and she posted that she is very upset and sad about what happened, so she will never publish big pictures of her future designs no more, to avoid any copyright violations. Here's what she said:
"The finish was a theft of my pattern from a photo. My understanding is that the photo was scanned and a software program converted it for stitching. The graph was then "shared" with friends and board members.
From here on out I have to make my images small and without pop ups so that this can't happen any more. I thought I was doing stitchers a favor but in the end it only hurt me.
The pattern, "He's a Flake" will ship on Friday to distributors as scheduled.
My heart is heavy but I forge ahead for those who respect copyrights and love needlework.
Diane"
This is so sad....