Riuscite a trovare l'intruso??? In questa foto c'è un oggetto che è diverso dagli altri....
Can you find out what's the "wrong" objet into this picture? There is an intruder...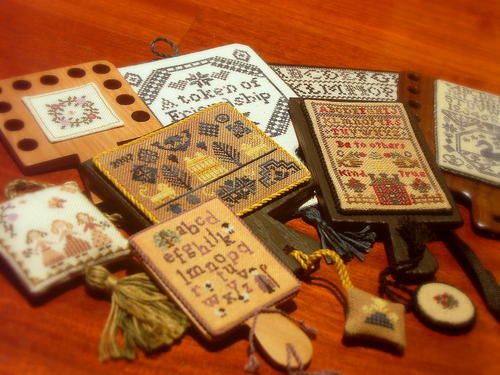 Ma si... si che si vede!!! E' proprio lì in mezzo... Vero che lo avete trovato??? E allora eccolo qui, il finto hornbook portaforbici e aghi, creato partendo da un disegno di Ellen Chester! Non so come mi è venuto in mente, credo sia colpa della mia passione per gli hornbook che è ormai fuori controllo...
Come on... it's easy to see it!!! It's right in the middle.... You already find it, right??? So there it is, the fake hornbook/scissor holder/needle holder, created starting from a Ellen Chester design! I don't know where I found this inspiration; I think it's because of my hornbooks mania, that is out of control...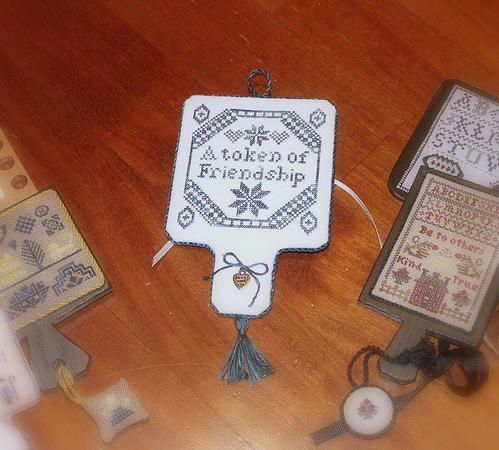 L'ho ricaamato su lino Graziano, con il filato tinto a mano regalatomi da Helen (grazie ancora tantissimo!!!) e, come potete vedere, sul dietro ho aggiunto una deliziosa stoffettina, un pezzetto di pizzo antico e un nastro per trattenere le forbici e un pezzo di feltro per gli aghi... pensa sia carino!
I've done it on a Graziano linen cut, with the Carrie's Creation hand dyed floss received from Helen (a biiiiiiiiig thanks again!!!) and as you can see on its back, I've added a lovely matching fabric, an ancient lace piece and a ribbon to hold a scissor and a felt cut for needles... I tink it's cute!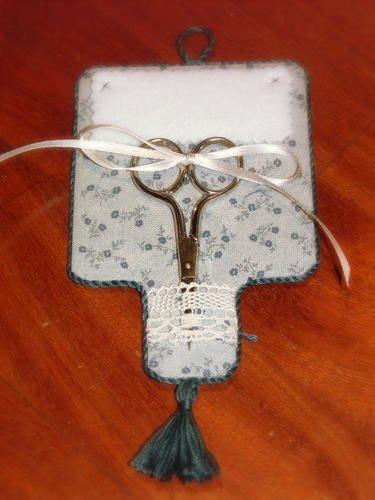 Adesso ho un altro hornbook che mi aspetta, direttamente dalle Fees Brodeuses. Per non parlare del resto degli accessori della Eve's Box!! :D
Now I have a new hornbook waiting for me in my stash pile, directly from Les Fees Brodeuses. And don't forget the Eve's Box accessories!!! :D