Ci sono cose fatte a mano che ti scaldano il cuore, per la cura con le quali vengono eseguite e per l'esclusività della loro stessa creazione.
There are handmade things that warm your heart, because they are made with care and because they are exclusive.
Tempo fa, ormai affezionata alle creazioni di Just Nan dedicate alla linea Queen of the Needle, mi è venuta una piccola idea da far realizzare per rendere veramente mia personale la collezione. C'è un negozio francese splendido, che adoro, e del quale non riesco a fare a meno da tempo, che produce splendidi hornbooks grazie alla incredibile passione dei proprietari: l'Atelier des Elfes. Ho chiesto a loro di produrmi ciò che avevo in mente e loro han detto di si, previa concessione da parte di Just Nan.
Time ago, just because I'm so devoted to Queen of the Needle creations by Just Nan, I had a little idea about how to make really personal my collection. There is a wonderful French shop, that I truly love, and that I can't live without, that sells and makes superb hornbooks, thanks to its owners passion for wooden handmades: Atelier des Elfes. I asked to the owners about what I was thinking about and they said yes, but only with Just Nan permission.
Allora ho contattato Nan e il suo incredibilmente gentile marito John Caldera (di sangue italiano.... :D), i quali mi hanno concesso straordinariamente di dar forma alla mia idea.
Then I've contacted Nan and her incredibly kind hubbie John Caldera (he has italian blood in his veins... :D), and they have kindly given to me the chance to make my idea come true

Insomma da tutta questa storia nasce questo:
Well, from all this, here's what happened: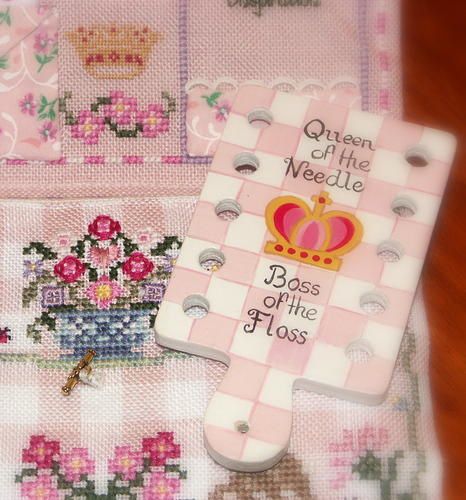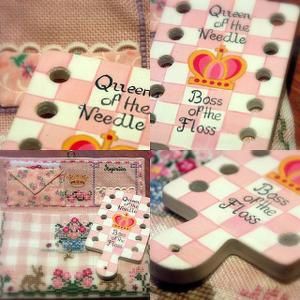 Non mi resta che ringraziare prima di tutto Just Nan per il permesso concessomi, ma soprattutto Christophe e Laurence per le loro mani... elfiche!!!! :D
I just have to say thanks to Just Nan for the kind permission, but first of all I say thanks to Christophe and Laurence to have such wonderful elf hands!!! :D
Con questa creazione esclusiva ho acquistato anche un trifil, che può benissimo essere abbinato anch'esso alla pochette...i
With this exclusive creation I've purchased even a premade thread holder that can go with the Just Nan case...