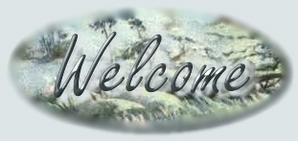 Non riesco ad aspettare... Devo assolutamente mortrarvi su cosa sto lavorando, perchè come ben sapete mi piacciono profondamente queste creazioni così eleganti. Non ho cominciato molto tempo fa a ricamarlo, e devo ammettere che si tratta di un disegno semplice, ma l'effetto finale è quel che più mi piace... Guardate anche voi e fatemi sapere cosa ne pensate!

I can't wait.... I MUST show you what I'm working on, because I truly love this kind of elegant creations. I've started it not too much days ago, and I have to admit that it's a simple design, but the final effect is what I like the most... Take a look and let me know what do you think about!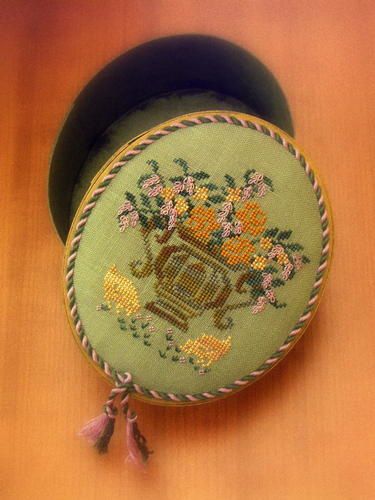 Questo è il PRIMO pezzo della "Eve's Box", disegnata da Ebeth Talledo... una delle più gentili persone che conosco... e non è nemmeno finita! Ma ero così orgogliosa una volta finita che mi son sentita di mostrarla subito sul blog. Devo ancora realizzare l'interno, per non parlare degli accessori, e non vedo l'ora di vedere tutto finito.
It's the FIRST piece of the "Eve's Box" designed by Ebeth Talledo... one of the most kind persons I know... and it's not even finished! But I was soooooo proud of it once finished that I felt the urgence to show it to you here. I still have to stitch the inside, plus many more accessories, and I can't wait to see everything finished.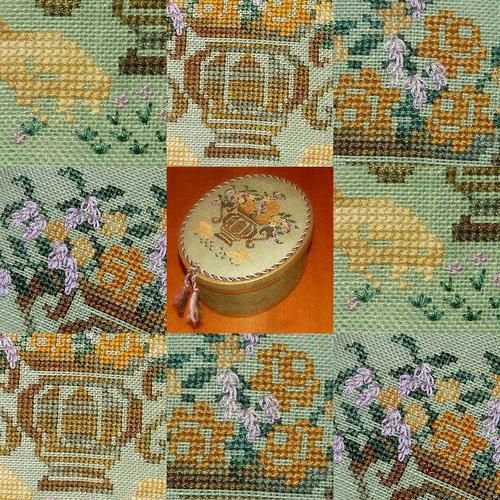 I fili usati sono i WDW e i GA, più un colore Caron, mentre il lino è una bella nouance di verde della Wichelt, l'Antique Green (32 count).
Il vaso, come ben si vede, è pieno di fiori di glicine (fatti con il punto Lazy Daisy senza indicazioni sullo schema... diciamo da realizzarsi a ruota libera!!), fiori adorati da mia mamma insieme alle rose rosa: ho in giardino un enorme, vecchia, ricurva pianta di glicine, sempre là per ricordarmi della mia preziosa mamma e questo progetto, una volta terminato, mi aiuterà a ricordare il suo amore per la glicine anche dentro casa. Forse è per questo che mi sono subito innamorata, al primo sguardo, della Eve's Box.....

The threads used are WDW and GA, plus one shade from Caron, and the linen is a soft shade of green called Antique Green by Wichelt (32 ct.).
The vase, as you can see, is full of wisteria blossoms (stitched using lazy daisy stitches...but only with suggested locations, allowing to "play" with the piece placing and designing every blossoms group!!), the flowers my mom loved the most with light pink roses: I have in my garden a huge, old, curved wisteria tree, always there to remember to me my precious mom and this project, once finished, will help me to have her "love for flowers" remembrance inside my house too! Maybe that's why I fell in love with "Eve's Box" at first sight......