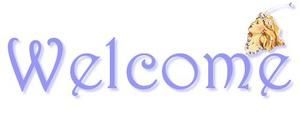 A very special day, today!
There was a package waiting for me at the post office... and when I've seen the box and the sender address, my heart started to beat faster and faster....
MAMMA MIA!!!
I opened the box and "oooooooohhhhhh": I found many small packages inside!!!

My attention has gone directly to the looooooooovely card... handmade!!! I've read all those nice words, handwritten in a perfect calligraphy, and I've smelled a good perfume coming from all those little packages inside the box...
My Seasons Exchanger is one of the bloggers I read and admire the most: Helen!
In a jiffy I've opened all those packages, full of wonderful goodies, and surprise after surprise, I finally opened the "Golden Box" (intentionally I've left it as the last thing to open...:D) and my heart stopped!!! Inside, a gorgeous pillow with a Shepherd Bush design; I've "read" every stitch, smelling the pillow because of its loooooovely perfume, and I've been surprised by the gorgeous finishing technique, totally handmade with nun stitches and two colors backstitches!
THANKS HELEN!!!
I'm sooo happy that you are my seasonal partner: I love everything you stitch and I'm so lucky now that some of your wonderful creations will be mine!!! :D:D:D
Curious to see everything?
:D
No more waiting time.... here's the pictures!!!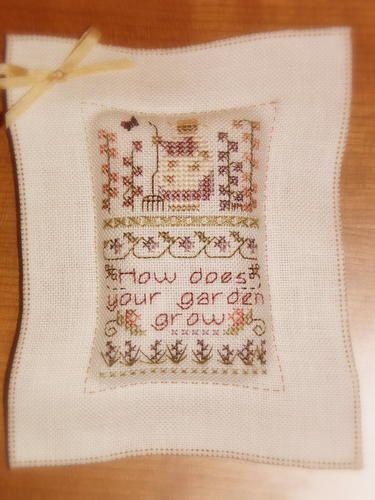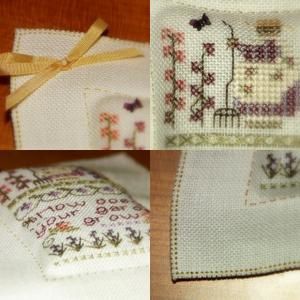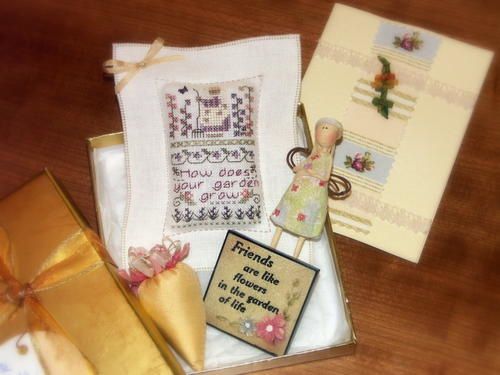 As you can see, with the gorgeous pillow Helen sent a lovely pixie, a perfumed nice strawberry pincushion (soooooo nice!!!!!! I love it!!!), and a cute magnet with a perfect motto!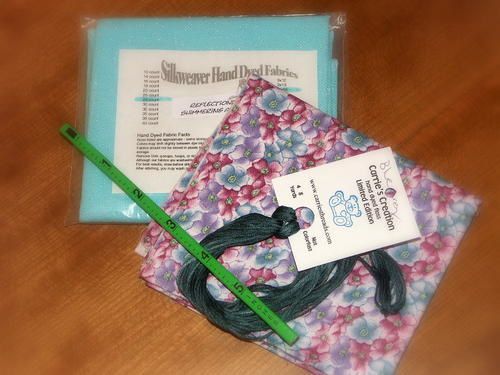 And more stash for me!!!! An enchanting, sparkling, wonderful cut of the Reflections Shimmering Aqua fabric by silkweaver; a piece of fabric with nice flowers; an incredible Blue Grey Carrie's Creation hand dyed floss skein and.... a pencil embossed with centimeters and inches!!!!!
Sooooooooooooooooooo happy I am!!!!!

Thanks again, sweet Helen, for this gorgeous exchange!!!!