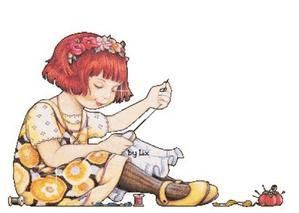 Dopo aver finito il Sampler Basket, ho terminato anche i relativi accessori: cuscinetto puntaspilli, libricino per gli aghi e fob per la forbice.
Relativamente semplici e veloci da realizzare, sono stati un puro divertimento anche da assemblare. Nel piccolo fob, l'imbottitura è costituita da... riso! Così prevedeva lo schema e così ho fatto!
After the lovely Sampler Basket, I've completed its accessories: pincushion, needlebook and scissor fob.
They have been quite simple and quick to stitch, and I had pure pleasure finishing them. Little peculiarity: the tiny scissor fob is stuffed with... rice!!! That was suggested by Mrs. Rudnicky, so I did!
E questo è un ingrandimento del needlebook: le piccole spolette in metallo sono graziosissime!!!
And this is a close-up of the needlebook: those little metal spools are soooo cute!!!