Come sapete leggendo il blog, mi piacciono molto gli hornbooks: li trovo particolari e creativi e sono sempre in cerca di nuovi disegni e nuove forme e finiture. Tempo fa ho trovato un chartpack di "The Prairie Sampler", fatto in South Carolina, e non ho potuto far altro che aggiungerlo alla collezione... e ora è terminato!
Si tratta del "Sampler Hornbook", realizzato uno su uno su lino Glenshee 29 ct. color Muffin con dei filati in seta tinti a mano, per me nuovi, della serie Belle Soie Crescent Colors. Facile da fare, senza punti speciali, per una volta :D, e dal sapore antico.
As you know by reading my blog, I love to death hornbooks and wooden accessories: I think they are so unique and creative and I always look here and there trying to find new designs, new shapes and new way to finish them. Months ago, I've find a new chartpack with hornbook included by "The Prairie Sampler", proudly designed in South Carolina, and I was so happy to add it to my stash... well, now I've stitched it and completed it!
It's the cute "Sampler Hornbook", stitched over one using linen Glenshee 29 ct. Muffin
color
, with hand dyed silk threads, new to me, made by Belle Soie - Crescent Colors.
Easy to stitch, without special stitches, finally :D , and with an antique look.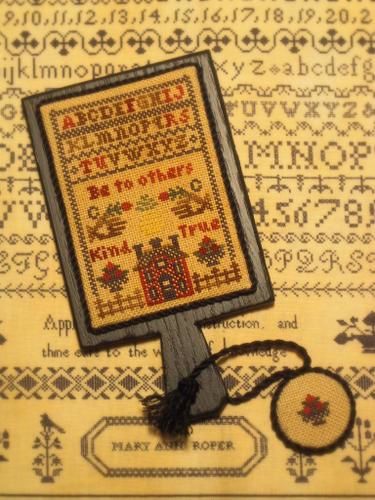 Ho aggiunto una "pastiglia" ripetendo il ricamo del vaso (e confesso che ho "copiato" in questo la mia amica di scorribande Paola, anche lei affascinata dagli hornbooks...) tanto per dare quel tocco speciale in più... Ma ecco dei dettagli. Mi piace molto la scritta: Be to others kind true. Ne abbiamo bisogno tutti di tanta gentilezza in più!!!

I've added a little charm, repeating on it the vase motif (I confess I've copied my friend Paola...) just to give to it a special touch... Here are some details. I love so much the phrase: Be to Others kind true... We all need more kindness!! :)