Cosa si ricama d'estate? Fa caldo.... le mani sudano.... non è proprio la stagione giusta per creare qualcosa proprio con le mani! Ma, se in aiuto arriva il fresco dei temporali estivi, beh, allora è un'altra cosa!!!!
Quindi perchè non buttarsi su un progetto nuovo?
What could be stitched during summertime? It's hot outside.... our hands sweat... it's not the right season for a handmade creation such an embroidered piece! But if a sudden summer rainfall comes to bring some fresh air, well, it's stitching time!!!
So why not to start a new wonderful project???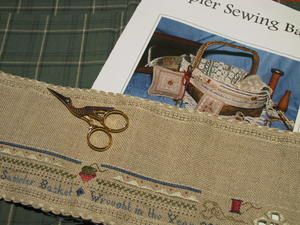 Il bel Sampler Sewing Basket di Hillside Samplings sembra essere il progetto perfetto, anche per la banda di spesso lino utilizzata: un sacco di punti speciali, mai noioso e veloce da completare!!!



The lovely Sampler Sewing Basket from Hillside Samplings seems to be the perfect project, because of the thick linen band used for it: a lot of special stitches, never boring and fast to complete!!!