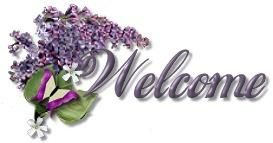 Piccola piccola piccola tin decorata con un disegno di Lorri Birmingham: non è stato semplice attaccare il cordoncino attorno, ma è così deliziosa che ne è valsa la pena far fatica!!
Little little little tin embellished with an elegant Lorri Birmingham design: it has been not easy to add the cording
all around, but I'm very satisfied with the result!!!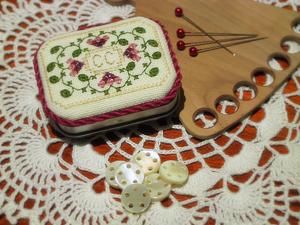 Ecco un ingrandimento del particolare: i tratta di cuori fatti con il queen stitch, ben contornati da un blending color oro della Kreinik. Ricamato con DMC, il nome del kit è Garden of Hearts needle keep.



Here's a nice close up of the covered tin: little hearts stitched using queen stitches, backstitched with Kreinik gold blending filament. Embroidered with DMC threads, kit's name is
Garden of Hearts needle keep. Very quick to stitch, very easy to assemble!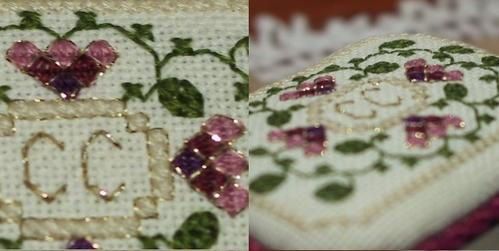 Grazie grazie grazie per tutti i bellissimi commenti che lasciate sul blog: siete sempre molto carine e gentili! E' un piacere leggervi!!


Thanks thanks thanks so much for all your visits and comments to my blog!!! You're always so kind and lovely!!! It's a pleasure to host your comments and I love to read you!!!