Piccolo tuffo in una atmosfera a me molto cara: chi mi conosce sa che io ho una vera mania per il natale; sarà per il brutto tempo, sarà per la voglia di far qualcosa di piccolo, veloce ma nello stesso tempo elegante e prezioso, i ricami fatti da me in questa settimana sono dedicati a tre graziosi ornamenti della Olde Colonial...
Little dive into a feeling that I'm very devoted to: who knows me knows also that I love maniacally everything Christmas related; because of the rain and the cold weather that keep us back into wintertime and because I was in the right mood for something quick to stitch but elegant and precious too, my weekly stitches have been to complete and finish three wonderful Olde Colonial ornaments...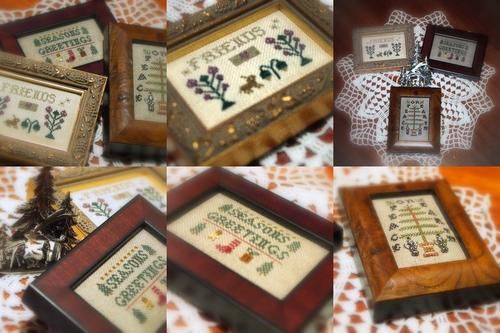 Molto piccoli... molto eloci da eseguire... fatti uno su uno e poi assemblati con delle piccole graziose cornicette. Saranno bellissimi sul mio albero di Natale!



Very small... very quick... stitched one over one and then assembled with tiny gracious frames. They will look great on my Christmas tree!