I would like to say thanks to a special person:
Mrs. Elizabeth "Ebeth" Talledo


designer of
The Dames of the Needle.
Thanks so much for your wonderful gift: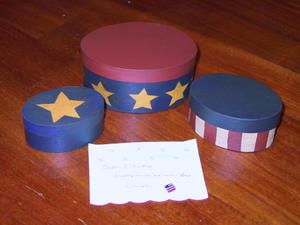 I've contacted her to say how I was happy to stitch her Americana Box and we had a nice chit chat together. Yesterday the mailman delivered to me a small package... and inside three wonderful Americana little boxes, handpainted, from Ebeth;
with them a nice button and a lovely message from her.
Isn't she cute???
It's up to me now to find the way to "dress" this boxes to be perfect companions!



Vorrei ringraziare la Signora Elizabeth Talledo di The Dame of the Needle per il meraviglioso regalo che mi ha mandato! L'ho conosciuta e abbiamo fatto quattro chiacchere deliziose (presto una sorpresa da lei...) e Ebeth è stata gentilissima! Il postino infatti è arrivato con un bel pacchettino con dentro queste tre graziose scatole, un bottoncino e un carinissimo biglietto, regali che Ebeth mi ha mandato per far da compagni alla mia Americana Box! Non è stata carinissima??? Adesso tocca a me pensare come decorare le scatole...