Finalmente ho iniziato...

Ho finalmente iniziato la bellissima pochette di Giulia Punti Antichi!
Finally I've started the wonderful Giulia Punti Antichi sewing set!!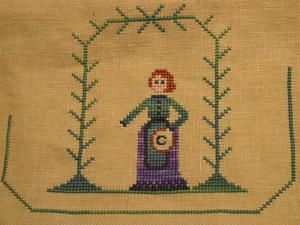 Molto piacevole da crocettare, con le sete della Caron, morbide e coloratissime!
Very nice to stitch, using those wonderful Caron silks, smooth and colored!
---

Per il SAL, ecco finita la carinissima e veloce quarta parte:
SAL time! Here's the nice and quick fourth step: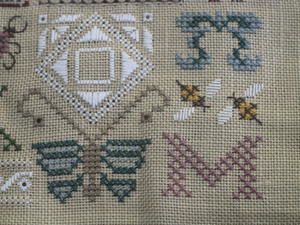 Al centro del quadrato va messo un bottone: a me non piace quello del kit, così vedrò di trovarne uno diverso, magari di un abitino di uno dei miei tesorini!
In the middle of the square there it goes a button: I do not like at all the one that comes with the kit, so I'll try to find a nicer one, I'll look for a button from some old dress of my kiddoes!
Ed ecco la quinta parte: scegliete se la parte a piccolo punto la volete fare tutta con la quinta o fare metà e metà con la sesta parte; mi sono resa conto che è lunghetta, quindi vedete un po' come vi trovate meglio....
And here's the fifth step: just decide if you like to stitch the one over one words with this step or split them and stitch them part now and part with the next step....; I've noticed that it's a huge part, so do as you want!!!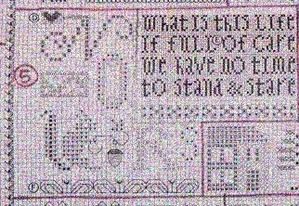 ---

Un po' prestino, eh?? Però ho una cosa da farvi vedere, che mi ha lasciata di stucco al supermercato: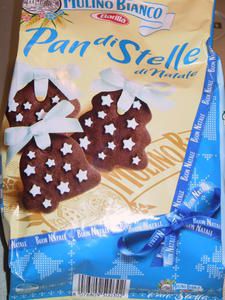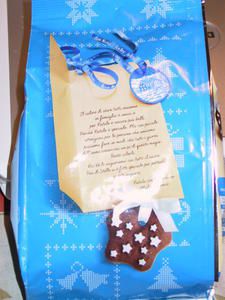 Sono i biscotti Pan di Stelle di Natale.... a parte il fatto che giungono in largo anticipo, quello che mi ha stupita sono le decorazioni: SONO SCHEMINI A CROCETTE!!! Hehehehehehe il puntocroce si allarga a macchia d'olio, inesorabilmente! E i fiocchi di neve sono carinini!! Da copiare....