18 Settembre... pronti, VIA!

Mettete il primo punto sulla vostra tela!!!!
Put your first stitch on your fabric!!!
Oggi inizia ufficialmente il SAL del Random Thoughts by The Drawn Thread! Dopo aver segnato la partenza, ecco il primo alberello che prende forma...
Today starts the Random Thoughts SAL! After I marked my starting point for the first step, here's my first tree: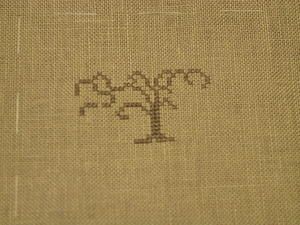 Ricordo a tutte che la prima parte deve essere terminata entro domenica... Ecco comunque lo schema della prima parte:
Please remember that the first step has to be completed and posted for sunday... Here's the first step reminder: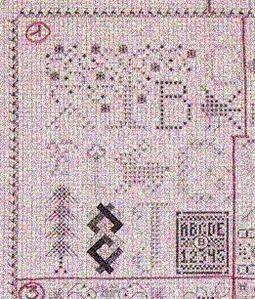 Per Nadia: Pimpi/Simona dovrebbe averti illuminata sul da farsi... altrimenti mandami una mail qui
---

Siamo all'assemblaggio... Ho infatti finito anche l'interno della pochette e ora non resta che mettere insieme i pezzi, cioè la parte più difficile!!!!!
Here we are with the assembling step... I've finished the inside of my Queen and now I have just to put everything together, the most difficult part of the job!!! Debbie, the inside is much better and faster than the outside! You'll stitch it in a jiffy... I'm seriously worried about how to attach all those pockets and things... fortunately I have a loooooot of patience!