La prima parte è finita!!!

Ecco la parte esterna della pochette!
Here's the outside of the Sampler Case!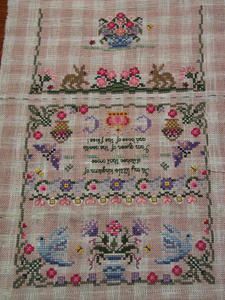 Bella eh??? Una faticaccia.... tutti quei punti speciali.... ma sono soddisfatta perchè l'effetto finale è davvero delizioso!
Wonderful, isn't it? Whatta work... all those special stitches.... but I'm very satisfied because the final effect is really pretty!
Ecco una foto più grande dell'ultima parte eseguita:
Here's a bigger picture of the last stitched section: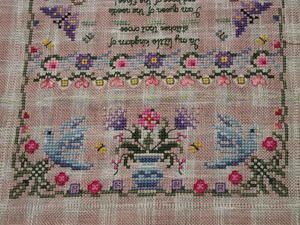 ---

Eh si, e come ogni crocettista amo incrementare la mia scorta di sogni, quindi ecco che qualche tempo fa ho ricevuto un bel pacchetto con all'interno queste piccole meraviglie:
Yess, and as a good cross stitcher I love to implement my stash, already full of dreams; here's what I got into the mail time ago, this wonderful little cuties: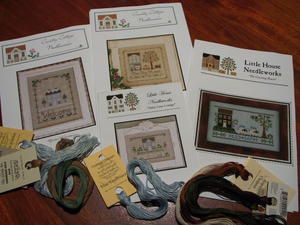 Uno di questi schemi, che sono della Little House Needleworks e Country Cottage Needleworks, lo userò per abbellire la scatola in palissandro comprata tempo fa... ma non dico quale schema userò!
Tutto sta a trovare il tempo necessario per farlo....
I'll use one of this LHN nd CCN patterns to embellish a wooden box I bought time ago... But I do not want to reveal wich one I'll use!!!
And of course I need to find the time to stitch it....