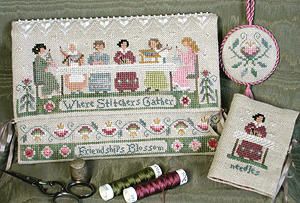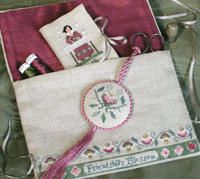 Ecco di cosa mi sono innamorata e che è impossibile da avere! Si chiama "Where Stitchers Gather" ed è di Victoria Sampler. Appena vista la newsletter mi sono precipitata a scrivere una mail per sapere comedovequando avere lo schema.... La gentilissima Thea mi ha risposto così:
Here's what I'm in love with and that is impossible to have! It's "Where Stitchers Gather" by Victoria Sampler, released time ago and present now into the VS newsletter. Of course I asked about it immediately, to know howwherewhen have the chance to buy the pattern or t o participate to an online class... I had a very kind answer from the sweet Thea:
"Hello Claudia..
Thank you so much for your kind letter. It's so gratifying that you like my
designs. I'm the only one on duty today, as it's Labour Day and both Lisa
and Cathy are off enjoying their holiday, so I thought I'd answer your very
nice request.

The "Where Stitchers Gather" design is an 'in-person Class design' only
right now. I'll be teaching it at our VSHoliday here in Victoria in October.
Afterwards, I may keep it as a class project for up to another year, after
which I will probably release it as a Cyberclass or published leaflet. I've
had so many requests to publish it, that I'm sure you'll see it released
sometime.

Again.. thank you.. you're right, the ladies all stitching together at the
table also reminds me of all the classes I've taught.. and the friendships
formed.
xoxoxoThea"
E cioè che il progetto è una classe solo per le persone presenti sul posto e che solo tra un anno forse sarà una cyberclass... NOOOOOOOOOOOOOOOOO!!! Sigh....
Nooooooo... How I can wait so long to have such a beauty??????? Sigh....