Le mie iniziali.... sono comparse accanto alla corona con una serie di fiori e farfalle.
Here are my initials! They are finally appeared next to the crown, with a lot of flowers and two butterflies.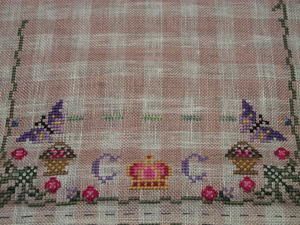 Molto carino!
Veeeeeery nice!
Ecco il particolare di un angolo:
And there it is, a close picture of the corner: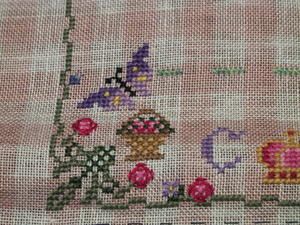 Le rose triplo colore sono tante e lunghe da fare, anche se l'effetto finale non riesce a rendere l'idea. Adesso tocca alla scritta, un bel motto per noi ricamatrici!
The roses are made with three different colors and they are a lot and very slow to stitch, even if the final effect is not so powerful. Now it's time to stitch the motto: a must for all of us stitchers!!!