Grazie davvero tanto per tutti i commenti carini che lasciate!!! Non è il mio forte gestire un blog: dovrebbe essere un diario anche personale, ma alla fine io posto quando mi pare e tutto relativamente al solo puntocroce, quindi penso che non sia proprio divertentissimo seguirmi...
Thanks sooooo much for all your sweet comments and visits to my blog! I'm not a good blogger for sure: a blog is a diary, a personal diary, but I post just when I feel to do it and I write only things and bits about cross stitch, so I just supposte that it's not so much interesting to follow my adventure...
Però lo fate! Quindi ancora grazie grazie grazie!
But you follow me!!! So thanks so much again and again for ever and ever!!!
Ma passiamo agli aggiornamenti....
Ho terminato il fronte del nuovo progetto "pinkeep fever" con disegno Brightneedle (oui, chère Fab... J'aime Brightneedle aussi comme toi!! : * ) che è proprio piiiiiiiccolo:
Let's give some progress pictures of what I'm building up...
I've finished the front side of my new pinkeep (I'm veeeeeeery sick... I've got the "pinkeepitis" ;D) using a Brightneedle design, a very small Brightneedle design: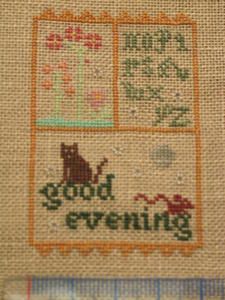 Pochi centimetri di ricamo... speriamo venga bene!!
Few centimetres.... I hope it will turn out nicely!
Ed ho anche terminato un secondo cuscinetto per la mostra, sempre rivisitando un Lizzie Kate:
I've also finished a new little tuck pillow with a LK strawberry basket: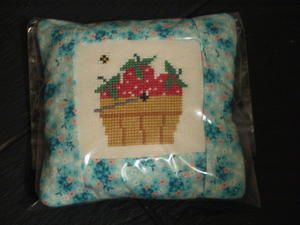 Ora basta aggiungere qualche dettaglio e saranno pronti per finanziare noi dell'Associazione!! :D:D:D
Now few more details and the pillows will be ready to be purchased by our showcase guests!
---

Piccolo aggiornamento anche della pochette QOTN: finalmente ho la corona!!! Adesso sono la regina...
Little progress on the QOTN project: now I have my crown!!! Now I'm The Queen...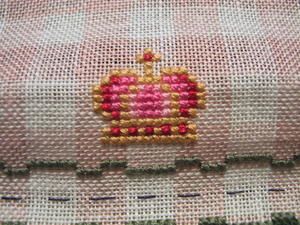 La "gemma" in alto e le altre cinque in basso sono fatte con punto smyrna a due fili: strano! Perchè lo smyrna a due fili non dà l'effetto giusto e alla fine sembra semplice punto croce. Chissà il perchè di questa scelta....
The "gem" on the crown top and the other five on the bottom are made with smyrna stitches using two silk strands: sooooo unusual! Usually smyrna stitches are made using one strand, because two strands give a normal cross stitch effect. Who knows why Nan did it with two??