Come si può notare, sulla destra ho aggiunto una piccola lista di chi sta realizzando il kit "Queen of the Needle" kit e ha foto dei progressi sul proprio blog: spero di ingrandire la lista con altre "Queens". Anzi, chiunque lo stia realizzando e capita qui, me lo dica e io aggiungerò volentieri l'indirizzo del blog!
As you can notice, on the left there is a little (right now...) list of people who's stitching the "Queen of the Needle" kit and has on the blog nice pictures of progress: I hope that my list will be soon bigger, with more "Queens" on it! So anybody who's stitching it and comes here for a peek, please leave a comment so I will be happy to add the blog to my list!
E da oggi aggiungerò i commenti anche in inglese, così anche le mie amiche potranno capire di cosa sto parlando negli articoli!
And starting today, I will add an english translation to my comments, just to let my friends of all over the world to understand what I'm saying...
Guardate qui cosa la mia amica Paola mi ha regalato per ringraziarmi di aerle assemblato il pinkeep:
Look here what my friend Paola has given to me to thanks me for the pinkeep I've assembled for her: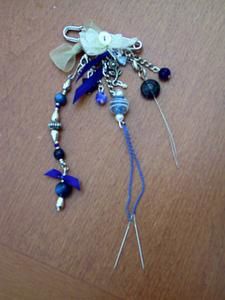 Cariiiiiina, vero??? Attrezzini tutti sottomano, così:
Niiiice, isn't it??? Nice little tools to handle in a jiffy: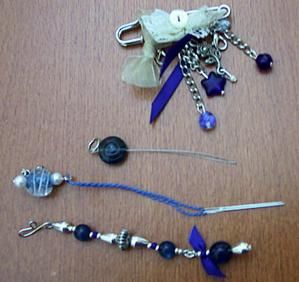 E di colore blu, il mio colore preferito: GRAZIE!
Blue, my preferred color: THANKS!