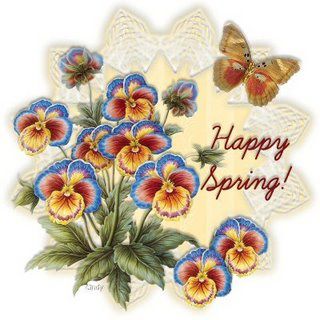 Un'altra piccola cornice di Olde Colonial, stavolta natalizia!! Si, lo so... siamo quasi in estate... ma almeno così ho finito la collezione delle cornicette (per ora! sono in attesa di altre... :D)
Sempre con filati speciali e DMC e piccoli charmettini, con punti speciali. Eccola in primo piano e poi con le altre "sorelle"...
One more Olde Colonial little frame, this time Christmas related! Yes, I know..... we are almost in summer mood... but with this finishing I have completed my collection (right now... I'm waiting for more little frames... :D)
Stitched with special threads and DMCs, using special stitches, it has some accents thanks to two small charms. Here it is! And with its "companions"...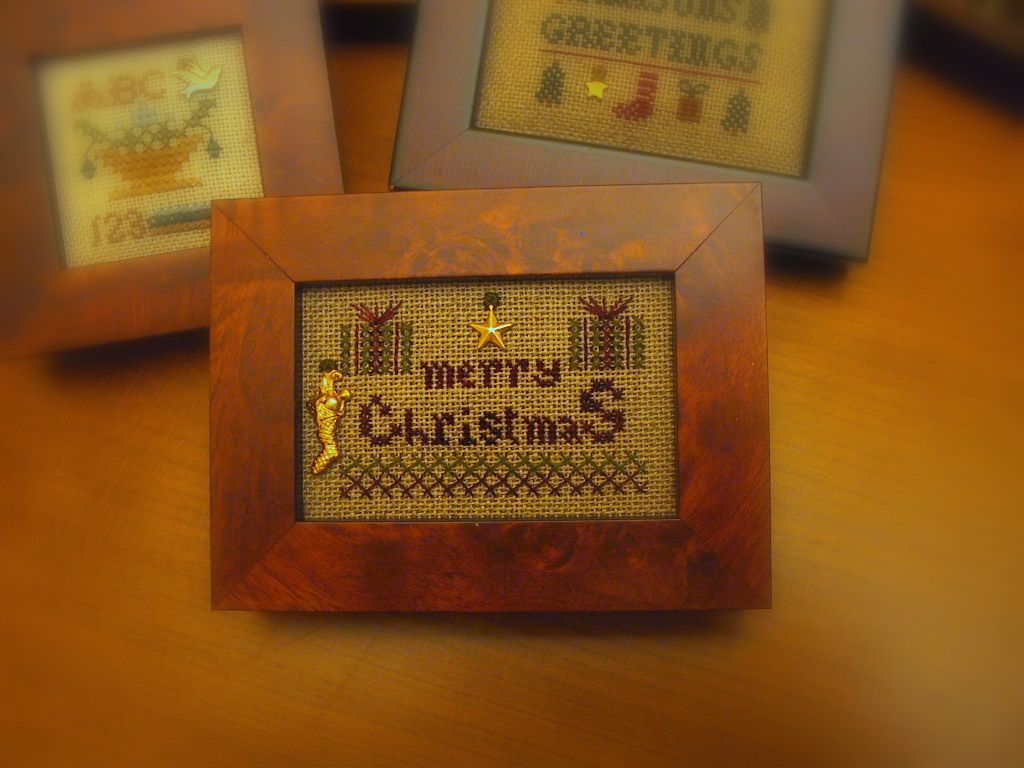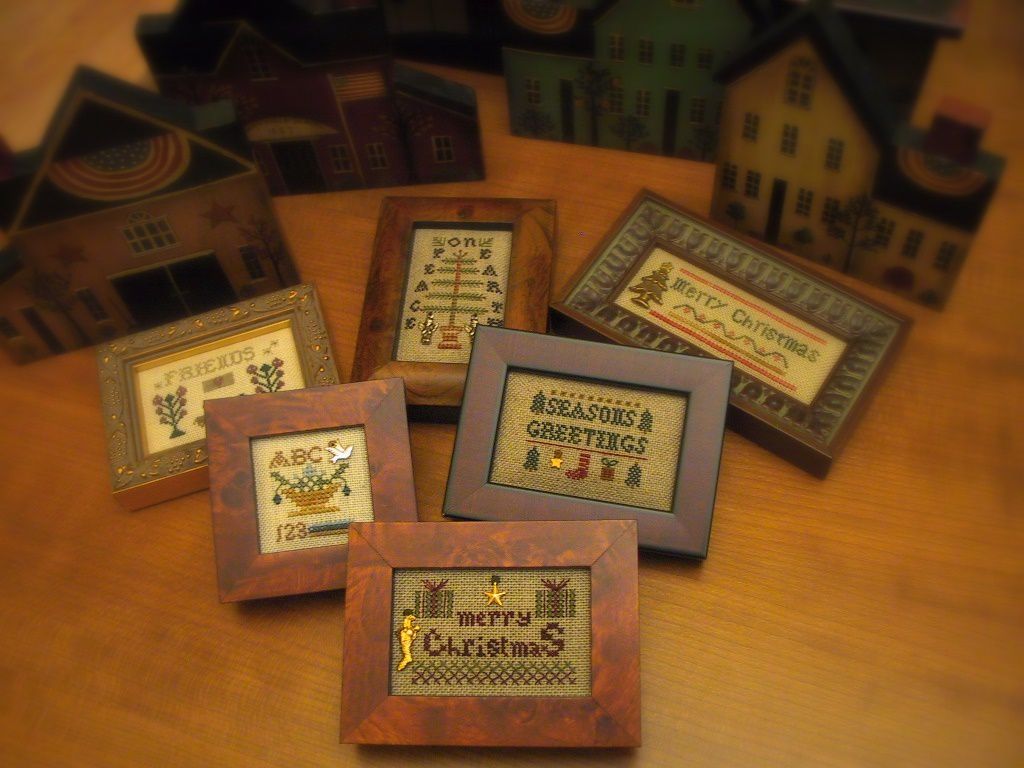 E ho anche un'altra piccola realizzazione, tratta da un hornbook che ho fatto tempo fa: una collana ispirata dai fragments che ho mostrato sul blog. Certo, non è come loro, ma è comunque bella da portare.
And I have another little finish, that comes from a nice hornbook I stitched while ago: it's a necklace inspired by those fragments I bought and showed previously on my blog. Well, it's not exactly the same thing, but I love to wear it
anyway!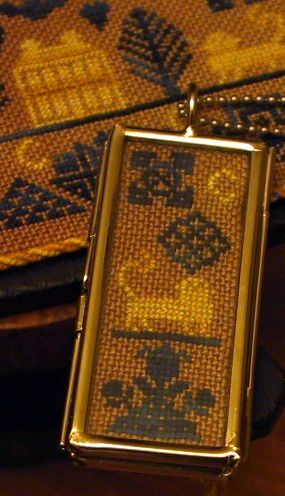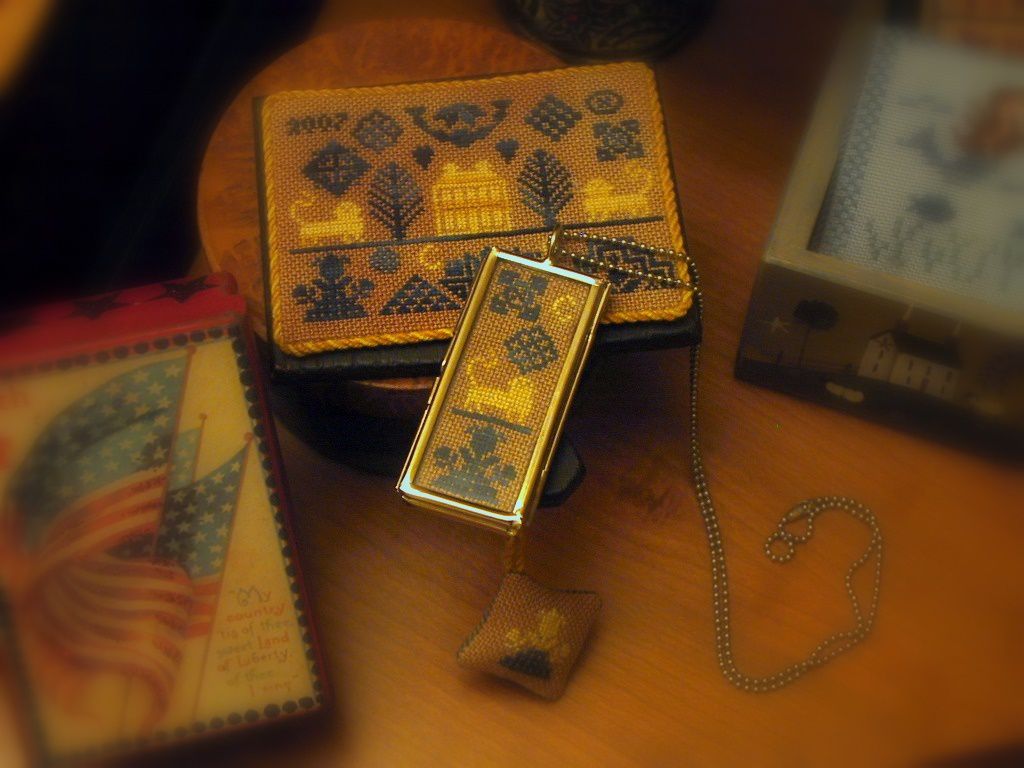 Carina comunque... :D
Nice indeed... :D

Ho anche una piccola notizia: Ellen Chester di With My Needle ha aperto un graziosissimo blog dove troverete il suo diario impreziosito da foto dei suoi lavori fatti... da noi!! Ellen è una delle mie designer preferite... e ho anche la fortuna di poter scambiare con lei gentilissime emails perchè talvolta la disturbo per delle informazioni o consigli. Lei è tanto paziente con me!! :D
Ecco il suo blog:
www.withmyneedle-ellen.blogspot.com
Buona navigazione!!
I have a lovely news to share with you: Ellen Chester of With My Needle opens a nice blog where you can find her diary and many pictures of her wonderful creations stitched... by you!! Ellen is a special person and she is one of my best loved designers... lucky me, sometimes I have with her some lovely emails exchange, because of my curiosity about infos or suggestions... She's so patient with me!!! :D
Here's her blog:
www.withmyneedle-ellen.blogspot.com
Have a nice surf!