Altered art glass pendants: a new cross stitch frontier!

Stregata dalla nuova scoperta di
Paola
, anche io ora posseggo qualcosa di veramente speciale, ben fatto e soprattutto ammirato quando lo indosso!! Si tratta di gioielli realizzati con frammenti di samplers prigionieri di vetro e stagno, poi impreziositi con charms e pietre semipreziose, piccoli stupefacenti aggeggini che la gente guarda domandandoti poi dove diavolo li hai presi!
Enchanted by the new Paola's discovery, now I own something very special, well made and admired when I have it around my neck!! I'm talking about necklaces made with cross stitched samplers fragments, imprisoned between glass and tin, then made more precious thanks to little charms and semi-precious stones, little stunning gadgets than people look at, asking where in the world you found them!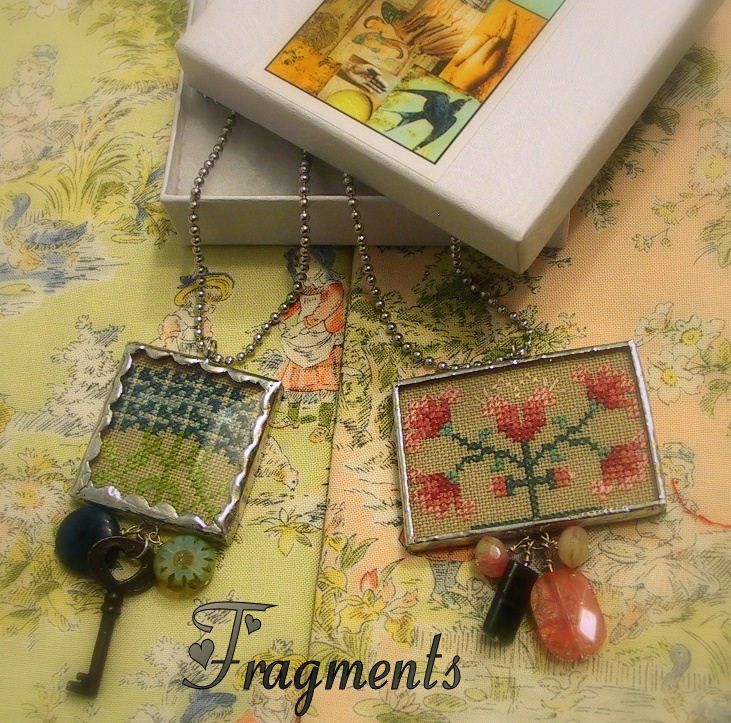 Belli.... originali.... unici! Unici perchè non ce n'è mai mai mai uno uguale all'altro. E double-face, perchè anche il retro è curato e personalizzato con qualcosa che richiama l'altro lato...
Wonderful.... fanciful... unique!! They are unique, because you can't find another looking the same or with the same sampler's fragment... And they are double sided, because their back has something that reminds the sampler fragment, in color or else...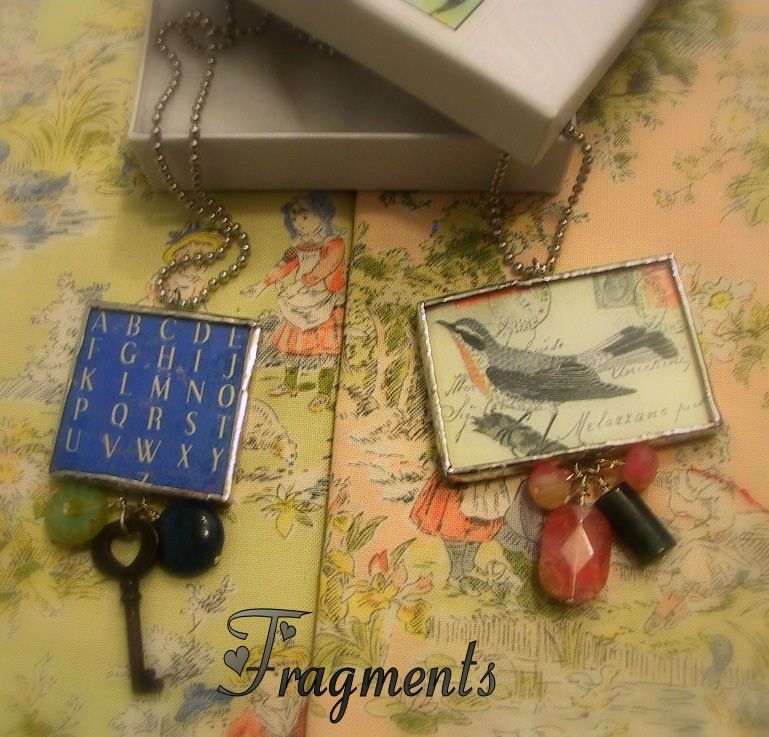 Sul retro un Abc e una lettera con francobolli italiani: il primo mi ricorda un hornbook, il secondo... beh, è Italiano! :D Grazie a questa nuova frontiera, mi sono cimentata anche io nella realizzazione di un Fragment, che non è certo come questi ma comunque sta venendo bene, spero! Comunque BUONA PASQUA e grazie sempre per i deliziosi commenti che adoro!!
The back side is with an ABC and a letter with italian stamps... The first pendant reminds me to a kind of an hornbook, the second one... well... it's Italian! :D Thanks to this new frontier I've tried to create a Fragment, that is not exactly like these but I can say it's something that can work and make the same effect... I hope! Anyway, HAPPY EASTER and always thanks for your kind lovely comments to my blog!!!