Merci à Les Fèes Brodeuses!!!

Una bellissima sorpresa, inaspettata e incredibile! Viene dalle Fèes Brodeudes, ospiti graditissime alla mostra de Le Mani che Ricamano, il mio gruppo di ricamo, che da due anni conosco e che apprezzo per il loro talento.
Ieri nella casella della posta c'era un loro schema, molto speciale... e unico! Infatti ritrae me e le mie amiche (compresa la mia piccola Melissa :D ) ed è un'unica edizione, dedicata a Le Mani che Ricamano!!!
A wonderful surprise, unexpected and unbelievable! It comes from Les Fèes Brodeuses, loved guests at the Le Mani che Ricamano annual showcase, organized by my stitching group, two wonderful ladies that I have the chance to know and to appreciate for their superb talent. Yesterday, in my mail box, I found an envelope with one of their pattern, a very special pattern... a very UNIQUE pattern! In fact it pictures ME and my friends (included my little DD Melissa... :D) and guess... it's a SPECIAL and LIMITED and EXCLUSIVE edition (only five patterns have been released, of course!!), dedicated to Le Mani che Ricamano!!!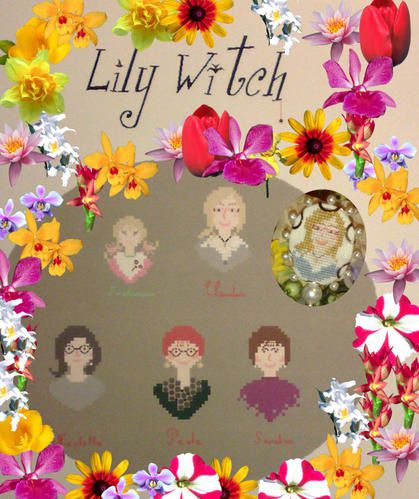 Come vedete, io mi sono già ricamata... ed eccomi!
As you can see, I've already stitched myself.... here I am!!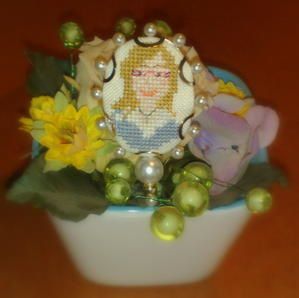 Ho montato il tutto su una spilla portatami da
Paola
da Parigi e poi arricchita da spilli a perla: ma sono io??? Hehehehe eh sì... sono io!!
Merci beaucoup Lily et Marie!!!
Je suis honorèe et je vous remercie avec tout mon coeur!!!