Winter exchange to Simone!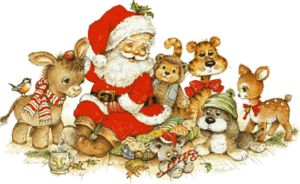 Buone Feste!!! Natale è passato ma per fortuna il mio exchange a
Simone
è arrivato in tempo: la vigilia di Natale il postino lo ha consegnato alla mia amica!
Per lei ho creato un ornamento molto speciale, praticamente un necessaire da appendere sull'albero quando non si usa.... Per il disegno, si tratta di un Prairie Schooler tratto da un JCSOrnaments, mentre il lino è un belfast verde 32 count, il tutto confezionato con DMC e stoffina Moda Fabric:
Greetings!!! Christmas has gone already, but luckily my exchange to Simone has been delivered right on time to her: at the Christmas Eve the Postman visited her house giving her my packet!!
For Simone I've created a very special ornament, it's a stitcher's necessaire that can be on a christmas tree when not in use.... I've stitched a Prairie Schooler ornament from a JCS Ornament issue on a green belfast linen, 32 ct. , using DMC threads: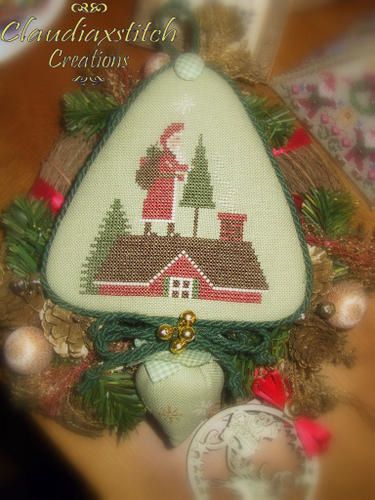 La fragolina è staccabile, da usare come cuscinetto puntaspilli e il bottoncino ricoperto si stacca per coprire l'automatico sulla fragolina....
Ecco il retro, con la forbice e la fragolina staccata...
The strawberry can be detached and used as a pincushion and the covered checkered button is detachable too to be used to cover the snap button on the strawberry..
Here's the back side with a scissors pocket and the detached strawberry: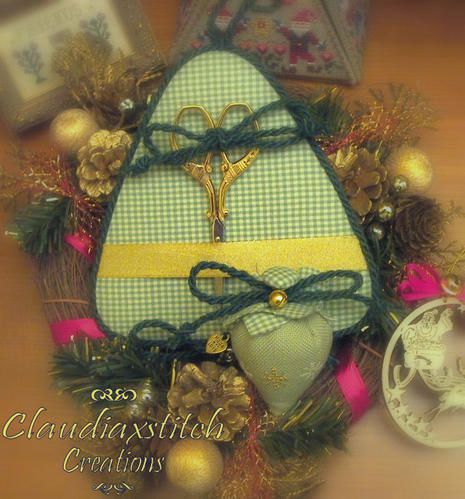 Al pacchetto ho aggiunto anche qualche goodie come un fob fatto da me, una stoffina, un thè di Natale...
Simone
ha fotografato tutto :D
To the package I've added some goodies like a handmade fob, some fabric, a Christmas tea.... Simone has pictures of them!! :D