Autumn Exchange: from Simone, fall colors for my house!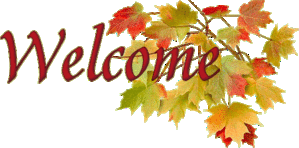 Aggiornamento Exchange: è arrivato dall'Olanda un pacco pieno di colori autunnali!
Simone
, la mia dolce partner ultimamente innamorata degli schemi di Tralala, mi ha confezionato un bellissimo banner autunnale (la stoffina è azzeccatissima!) con un elfo molto particolare!!! Molto molto molto carino, non trovate????
Exchange Update: it's arrived a package from the Netherlands full of fall colors!!!

Simone
, my sweet partner lately loving Tralala patterns, has stitched and sewed a gorgeous autumn banner (have you seen the lovely fabric she used????) with a cute elf, veeeeeeery lovely!! Nice, nice nice!!!!! Isn't cutee????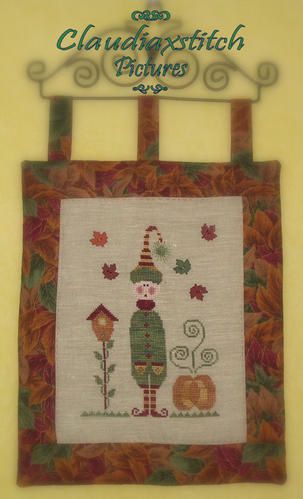 Bello eh??? Ed è fatto con sfumati Victorian Motto Shoppe Hand Dyed, brillanti, impreziosito da bottoncini a forma di foglia d'acero.
Lovely! And it has been stitched with Victorian Motto Shoppe Hand Dyed fibers, adding some maple leaf buttons!!



E Simone ha aggiunto dei regalini preziosi a questo exchange: guardate!



And Simone added a lot of nice items to this exchange: look!!!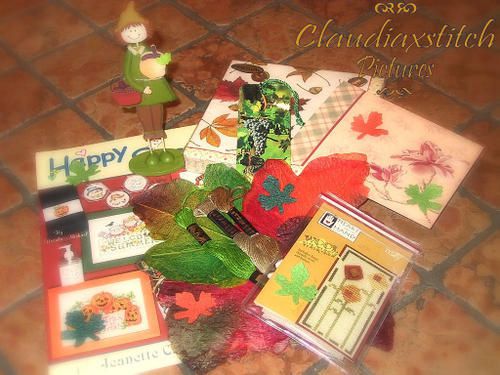 Un elfo dei boschi, tovagliolini, foglie grandi e piccole, matassine, un kittino HIH e un booklet sulle stagioni, un segnalibro!!! GRAZIE!!!!!!



An autumn elf, towels, big and tiny leaves, skeins, HIH kit and a seasons booklet, a bookmark!!! THANKS!!!

Thanks so much Simone!!!!!
I'm happy to have you as my partner!!