Ed ecco cosa ho ricamato per Su: una borsina da collo con un portafili. Il tema era la primavera, così ho usato un disegno francese di Tralala proprio dedicato alla stagione dei fiori e delle rose per creare questa piccola cosa.
Il lino è un Graziano 28 ct mentre i filati sono i soliti DMC:
Here finally what I've created for Su: it'a a small neck purse with its threadkeeper. Spring whas the last theme for this exchange, so I've used a french design by Tralala entitled to this season, the season full of blooms, flowers and roses, to stitch and finish this little gift.
Of course I've used a Graziano linen piece, while the threads are the usual DMCs: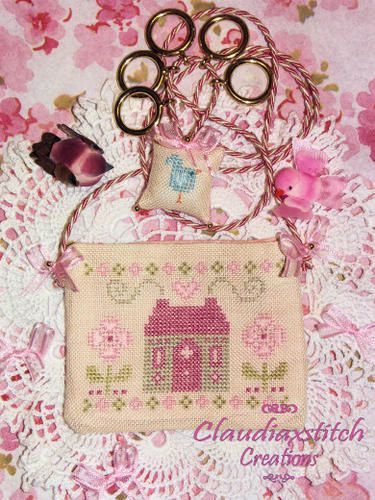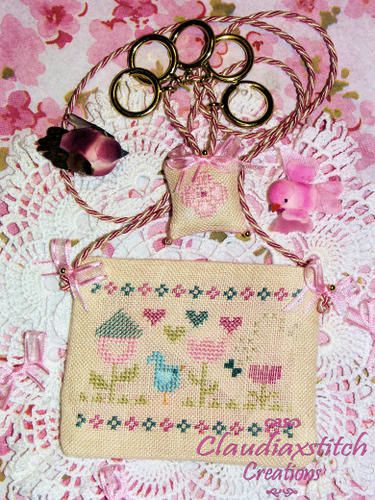 I due lati della borsina hanno due disegni diversi, così come il portafili, fatto con un cuscinetto e degli anelloni in ottone... ho anche aggiunto nastrini e perline d'oro per dare un tocco in più! E i punti usati sono diversi, non solo puntocroce, in modo da rendere tutto più personalizzato.
The two purse's sides are different, as the thread keeper made with a small stuffed pillow and big brass rings... I've also added little ribbon bows and some golden beads for a special final touch! And I've used different special stitches just to give a personal new style to the design.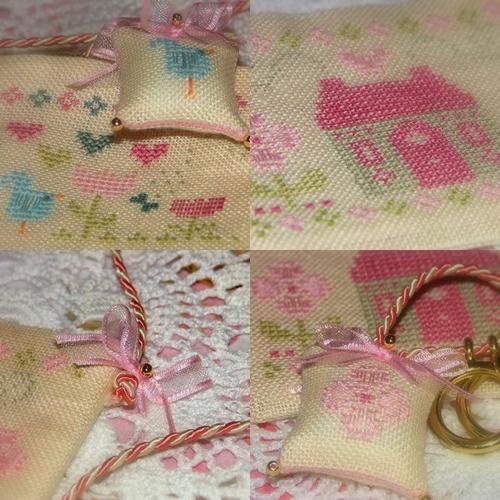 Sweet Su.... it has been a pleasure to be your partner. I had a lot of fun finishing and creating something special for you during this year and I hope that you liked what I've stitched. Enjoy this last little gifts and... I hope in a new kind of exchange soon!!!