La dolce
Su
ha ricevuto il suo scambio d'inverno!! E' stata dura trovare qualcosa di speciale e alla fine ho scelto un disegno di LHN apparso sull'ultimo numero di Just Cross Stitch Ornaments, facendone un flatfold porta ruota per gli spilli! Praticamente una stazione di lavoro, con una tasca sul retro dove mettere forbici e pinkeepers:
My sweet friend
Su
has finally received her Winter Exchange!!! It has been so hard to find something special, this time, but at the end I've stitched a LHN ornament issued into the latest JCSO, making a flatfold with it and adding something useful, a pinwheel!!! I can say that is a kinda workstation, with a useful pocket on its back where to store the pinwheel, some scissors and anything a stitcher wants!!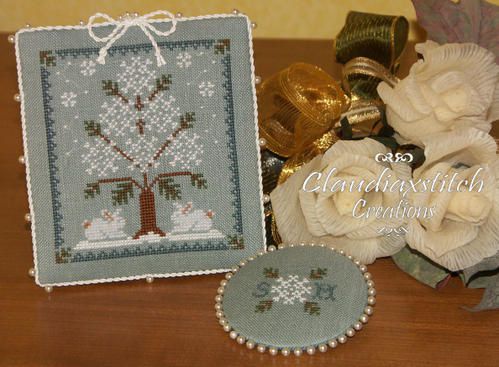 Sulla "ruota di spilli" ho ricamato un piccolo motivo tratto dallo schema e ad esso ho aggiunto le iniziali di Su... e in più un sacco di spilli!!! :D
On the pinwheel I've stitched a little motif from the design and I've added Su's initials... plus a looooooooot of pins!!! :D
Ecco il retro: c'è la tasca con il fioco di neve e un piccolo cuoricino d'oro applicato. Visto come la ruota di spilli si infila bene??
Here's the back: there is the pocket I told with a snowflake and a little golden heart. Look how the pinwheel slides in it!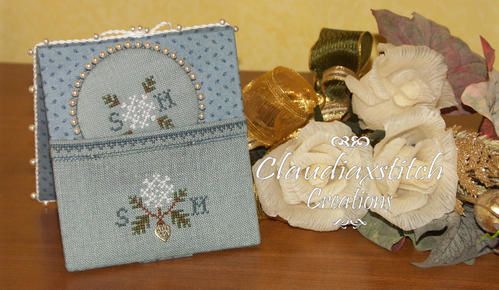 E solo per la vostra curiosità, il retro della ruota...
And just for your curiosity, the back of the pinwheel...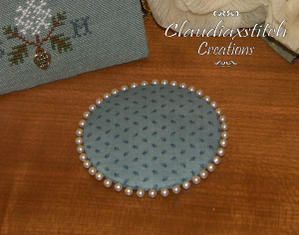 Ho aggiunto dei piccoli regalini al pacchetto, un fob fatto da me coordinato con la workstation, del cioccolato Lindt, un bel taglio di Lino Graziano e qualche matassina di Lino DMC... e anche una piccola candelina Pasquale!
BUONA PASQUA!!!
I've added some goodies to the package, a little scissor fob made by me that matches the workstation's colors, a Lindt chocolate treat, a nice cut of the wonderful Graziano Linen and some DMC Linen skein... and even a little Easter candle!
HAPPY EASTER!!!!