Piccolo aggiornamento su quel che succede qui... Ho terminato la tag di Agnès: piacevolissima da crocettare e finita in un lampo! Il colore del filato è un po' strano rispetto al tema della tag, ma comunque il risultato finale è carinissimo:
Little update about what's happening around here... I've just finished the wooden tag designed by Agnès of La Silphyde Toquèe: very lovely to stitch and finished in a blink of an eye!!! The thread color is unusual, if you consider that the tag is dedicated to Christmas, but the final piece is soooo cute that it deserves some attention: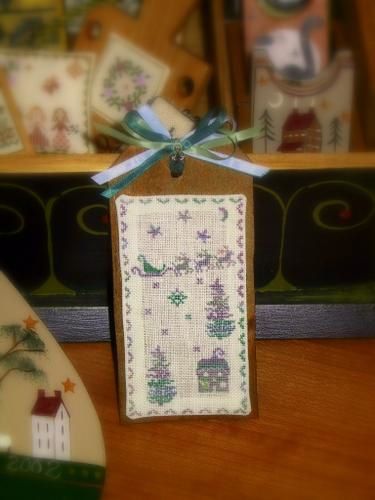 E questo è il mio angolino con la mia collezione: è il mio spazio preferito... :D:D:D
And this is my collection corner: this space is my favourite.... :D:D:D
Qualcosa deve ancora essere aggiunto... ma già mi piaaaace!!!!
Something has to be added... but I already love it!!!