Exchange! Una nuova tappa dello scambio con Su si è compiuta. Era il turno dell'autunno e non è stato facile per me trovare qualcosa di bello da usare. Alla fine ho scelto un disegno con le ghiande dal titolo Acorns and Threads, di Carriage House Samplings, molto elegante: l'ho un po' cambiato, l'ho eseguito uno su uno su un morbido lino Graziano e ne è uscito un grazioso porta filati! Su lo ha gradito e ne sono felice :D

Exchange! A new step for this exciting experience of the exchange for Su is done. It was the Autumn time and it's not been so easy for me to find something special to stitch. Finally I've found a lovely desigh with acorns called "Acorns and Threads", by Carriage House Samplings, very elegant and perfect for this exchange: I've changed it a bit, I've stitched it one over one on a soft piece of Graziano Linen and what I had is this cute thread holder... Su loved it and I'm happy!!!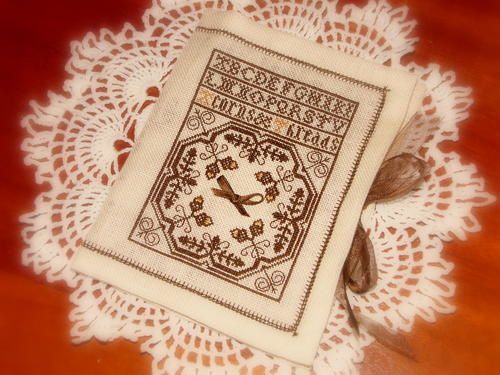 Dato che io amo alla follia i trifils e gli hornbook in genere, e dato che c'è qualcuno che quest'anno ne ha fatti di carini anche per la mostra, ho aggiunto al "libretto" anche questa ghianda da me vestita per l'occasione. Marco e Marisa de Il Filo Magico sono due persone eccezionali e ringrazio loro per l'ispirazione di questa delizia:

Because I deeply love thread keepers and hornbooks, and because there is somebody that this year produced some cute ones for the showcase of Le Mani che Ricamano, I've added to the thread book this cute acorn, dressed by me just for match Su's gift. Marco and Marisa of Il Filo Magico are two special people and I thank them so much for inspiring me with this lovely creation: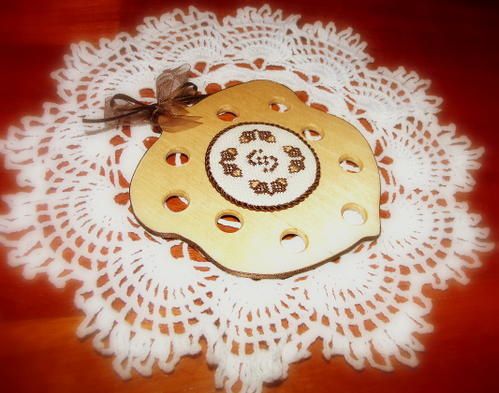 Vi mostro anche il retro e l'interno...

Here's its back and inside....